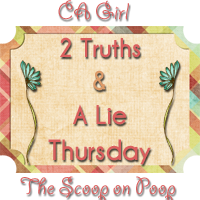 I love playing games...mind games, make believe games, pretending I like you when I think you are a total bitch because we work together and I can't tell you to go eff yourself because I don't have another job yet games and now...blogger games. This one comes from two gals who are funny and more importantly like to drink.
I tell you three things, two of which are the truth and one is a lie. You have to guess what is a lie and I tell you which is which next Thursday and you can win a BIG PRIZE! Big Prize = A signed picture of me. See? Isn't this going to be FUN!?!
This is going to be rather difficult as I am pretty sure there are some of you reading that have thoroughly dissected all of the skeletons in my closet and also the fact that I am terrible at keeping my own secrets. Here we go...
I don't "hate" anyone because "hate is murder in the heart"
I have never murdered anyone with my bare hands
I can't stand that people read my blog and don't sign up as a follower and therefore I am only at 20 something people in my blogger fan club. Newsflash people ~ popularity contests didn't end in high school!